The Epicenter of Luxury & convenience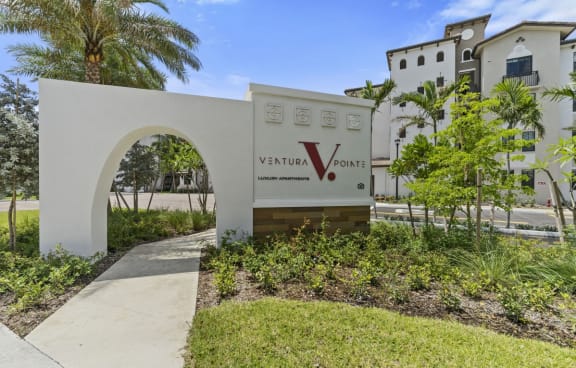 Welcome to Ventura Pointe Apartments in Pembroke Pines
Brand New Apartments positioned just minutes from Hollywood Beach and Miami Beach, Ventura Pointe Apartments offers residents the best of life in beautiful Pembroke Pines, with access to all South Florida has to offer. You'll love Pembroke Pines' for its peaceful small-town atmosphere combined with big-city amenities.
Ventura Pointe Apartments offers easy access to major highways, including I-75 and the Florida Turnpike makes it easy to get around the Miami metropolitan area for work or play and make the most of both the vibrant, urban excitement and peaceful, natural surroundings the area offers. Your brand new luxury apartment at Ventura Pointe is truly in the center of it all, surrounded by spectacular shopping, award-winning schools, vibrant museums and galleries, and dozens of lush parks and leisure activities to take advantage of our year-round sunshine and warmth.
From the moment you venture into our graceful front door, you'll be embraced by the comfort and convenience that makes our residents so happy to call us home. Here, cutting edge amenities; meticulously groomed grounds; and your own dedicated, award-winning professional staff come together in perfect harmony to create the highest standard of apartment living and the enviable lifestyle that you want and deserve.
Come explore the comfort and style waiting for you
You'll find the apartments at Ventura Pointe a manicured community, sophisticated modern apartment designs offer a timeless simplicity that works well for both families and individuals. These modern apartments also emphasize open, flexible spaces, allowing you to tailor the apartment's functionality. Modern materials are used extensively throughout the apartment. These apartments are perfect for those who want to make a clean break from the past and embrace pure modern style.

Designed to redefine luxury living, Ventura Pointe Apartments feature a peerless curated set of amenities.

Community and Quality Living. It Starts Here!
You'll find that our thoughtfully designed apartment styles emphasize open, flexible spaces, allowing you to easily tailor the apartment's functionality to your own personal sense of style.